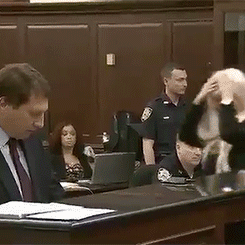 Amanda Bynes
attended court this morning (donning her wig and all), following an
arrest last night
for alleged reckless endangerment, tampering with evidence and possession of marijuana.
Assistant District Attorney
Chikaelo Ibeabuchi
stated in the hearing that Bynes told police she had tossed a vase out of her apartment window, and not a bong as was originally reported.
The 27-year-old was still in the same attire from last night and looked disheveled and anxious as she constantly readjusted her wig.
Bynes' attorney Andrew Friedman asked that the star be "released on her own recognizance because the police unlawfully followed her into her apartment."
The judge was "stern" throughout the morning hearing and when Bynes' public defender said that she had never been in trouble before, the Judge quipped, "not in this state."
The "She's the Man" star was arraigned and released and has her next court date, which she must be in attendance for, on July 9. But it looks like Bynes could be in for more trouble.
TMZ
got a hold of the mug shot that Amanda Bynes took last night
after getting arrested
for throwing a bong out the window of her 36th floor apartment and being in possession of the good shit. Underneath that used-up, bought-at-a-garage-sale Disney princess wig is some short hair.